Arctic Convoy campaigner Eddie Grenfell dies at 93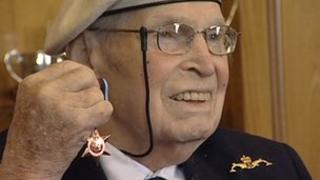 A World War II naval commander who led a campaign for recognition of veterans of the Arctic Convoys has died aged 93.
Cdr Eddie Grenfell, from Portsmouth, served on four of the treacherous convoys, which supplied the USSR.
He received an Arctic Star medal in March after the UK government eventually agreed to the award following a campaign he had led.
Second Sea Lord Vice-Admiral David Steel paid tribute to Cdr Grenfell's "amazing fortitude".
Winston Churchill reportedly called the efforts to keep supplies flowing through German blockades to the Soviet Union "the worst journey in the world".
By May 1945, the Arctic route had claimed 104 merchant and 16 military vessels. More than 3,000 Allied seamen lost their lives.
Cdr Grenfell once spent 10 minutes in icy Arctic waters when his ship was torpedoed.
Convoy veterans were previously eligible for the Atlantic Star but Cdr Grenfell campaigned for 16 years for a specific Arctic medal. Its creation was announced by David Cameron in December.
Speaking after the announcement of the medal, he said: "It's absolutely wonderful. I'm delighted except for the fact I'm very sad its taken so long that many of my chums are no longer here."