Delia Hughes murder trial: Jamie Boult to serve life sentence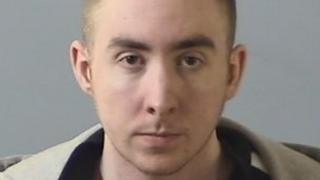 A man will serve a life sentence after being convicted of murdering a great-grandmother in her Southampton home.
Delia Hughes, 85, was beaten to death in her flat, in Ocean Village, on 18 August last year.
Jamie Boult, 25, of Chessel Crescent, Southampton, admitted killing Mrs Hughes but denied murder on the grounds of diminished responsibility.
His trial at Winchester Crown Court had heard he was suffering from the symptoms of a personality disorder.
Boult will serve a minimum of 25 years and was warned by the judge he may never be released.
Violent outbursts
Justice Bean, during sentencing, called it a "shocking case".
He added: "On 18 August last year you walked into the home of an 85-year-old lady, Delia Hughes, and battered her to death with a heavy lump hammer which you had brought to the scene from your home more than two miles away.
"Her death is a terrible loss to her daughter Beryl Catterall and to all her family and friends."
Jurors were told he entered her ground-floor flat through open patio doors and lay in wait in her bedroom. He then struck her at least eight times with the hammer and stole her jewellery.
The court heard medical evidence that Boult seemed to have been severely depressed, self-harming, had mood swings and was prone to violent outbursts.
Jurors also heard he had been having difficulties in his relationship with his mother, who he lived with in Bitterne.
Boult was arrested on 16 September after he smashed the window of a police car at Bitterne police station and began cutting his arms with scissors.
Mrs Hughes, who was widowed in 1993, had been trying to sell the Ocean Village flat to move in with her daughter.
Boult was also found guilty of an aggravated burglary at his neighbours' home.
He went into the property in Bitterne armed with an axe on 14 August last year, four days before Mrs Hughes was killed.
The couple who own the flat were out at the time of the break-in.
When the owners returned home they discovered the gas had been turned on their cooker, their TV had been overturned and a wine bottle and beer cans were on the floor.
Various items had been stolen including a guitar, sunglasses and a sports jacket. They also discovered a knife from their kitchen on their bed.
Boult was armed with an axe when he entered the flat which he told police he would be prepared to use if anyone was inside.