Portsmouth's Northern Road bridge reopens ahead of schedule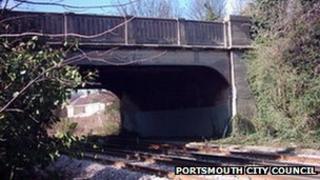 A major commuter route in Portsmouth that has been closed for four months has reopened early - but narrow lanes and speed restrictions are in place.
Northern Road railway bridge in Cosham opened to traffic earlier.
Work to replace the eastern side of the bridge finished ahead of schedule. Now work is to start on the western side.
But motorists are warned to expect continued delays as narrow lanes and a 20mph speed limit are in place while the project is completed.
Cyclists can now use the bridge again, but are asked to take a central position in their lane to help ease congestion.
Vehicles are not permitted to overtake cyclists on the bridge, the city council has said.
Work started in September following the announcement of £11m of funding from the Department for Transport which was added to £1.5m of council money.
The closure of the bridge in February caused disruption as about 1,500 cars an hour were diverted through nearby Paulsgrove and Hilsea.