HMS Collingwood bombing: 70th anniversary commemorated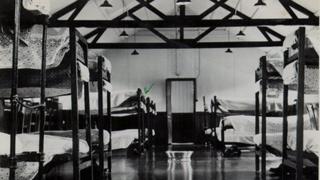 The Royal Navy has commemorated the 70th anniversary of a World War II bombing that killed 33 of its young sailors and was initially "hushed up".
A sleeping hut at HMS Collingwood in Fareham, Hampshire, was hit on 18 June 1943, killing sailors who had joined up a fortnight before.
But victims' families were initially told the trainees died in an ammunitions accident,
A chapel service has been held to remember the victims.
Relatives of survivors then visited the site where the bomb landed.
'Wonderful propaganda'
The German bomb struck one of the base's 36-man sleeping huts in the early hours.
Most of the sailors who died were aged 17 and 18.
HMS Collingwood Association chairman Mike Crowe said: "The bombing at the time was kept hushed up.
"It would have been a wonderful bit of propaganda had the Germans discovered what they had done with just one bomb."
The bombing was still an unknown story in 1958 when Mr Crowe attended HMS Collingwood.
During the event earlier, a wreath was laid near a tree that was planted for the bombing's 50th anniversary.
Commander Andy Phenna, executive officer at HMS Collingwood, said: "If we don't remember the sacrifice our forbearers made we cannot move on to the future."