Denmead traveller site plans 'unsuitable'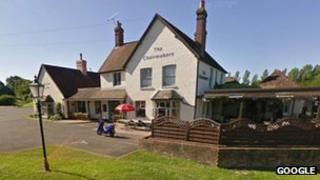 Plans for a Gypsy and traveller site on greenbelt land have been described as "unsuitable" by some local residents.
Eight plots are proposed on land behind The Chairmakers pub on Forest Road in World's End, Denmead, Hampshire.
World's End Residents' Association (WERA) has raised concerns over traffic and access to the site as well as the loss of open countryside.
The planning agents said the plot is set back from the road and promised additional planting to act as a screen.
In the design statement, WS Planning and Architecture said the eight families were ready to move in and would be left looking for temporary sites if the development failed.
The agent, which is acting on behalf of the families, said the proposal was justified due to the "urgent need" of traveller pitches in the area.
But a spokesperson for WERA said: "It's not a suitable site - it would reduce the open countryside around the village and, if approved, would set a precedence for development in the future.
"Access to the site would also be on a bend on an unlit country road so it would be hazardous to get in and out of."
Public consultation on the plans ends on 25 June and is expected to be considered by Winchester City Council in July.