Christmas Eve murder trial: stabbing followed 'affair confession'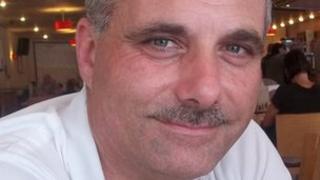 A man was fatally stabbed on his lover's doorstep on Christmas Eve after they had revealed their relationship, a court has heard.
Edward Vials, 47, died of a knife wound at a house in Hill Park Road in Gosport, Hampshire.
Winchester Crown Court heard he was stabbed by Marc Lindsey, 34, after Mr Lindsey's wife Laura confessed to the affair.
Marc Lindsey admits wielding a knife, but denies murder.
Robert Davies, prosecuting, told Winchester Crown Court that both the Vials' and Lindseys' marriages had been in trouble when the Mr Vials and Mrs Lindsey met through a football club in Gosport.
'Don't come here'
Christmas Eve was described as "pretty grim" in both households when the pair told their partners about the relationship.
Late in the evening, Laura Lindsey had sent Mr Vials a message warning him "do not come here, have told Marc I love you" after she had informed her husband their marriage was over, the court heard.
But he did go to the house.
Mr Davies said: "Marc Lindsey armed himself with a knife from the kitchen which he put into the back pocket of his jeans. He waited for Eddie to arrive."
In what the barrister told the jury was "an unhelpful intervention", Mrs Vials then called Mr Lindsey to tell him that her husband had beaten and raped her on three occasions.
"He [Mr Lindsey] was heard to say, 'What? He raped you. I want to kill him',
"She [Mrs Vials] said that was used as a figure of speech."
In a call to police shortly after he arrived, the jury was told the two men could be heard struggling and Mr Vials was heard to cry out out "You've just stabbed me in the ..." before his voice trailed off.
In a recording of a 999 call, Laura Lindsey was heard being given instructions by the operator as she tried to stem the blood flow from a knife wound in Mr Vials' chest.
The court heard Marc Lindsey had joined in the attempts to give first aid before paramedics arrived at the scene.
When police arrived at the house, jurors were told Mr Lindsay told them "it was me. I did it. Arrest me," and put his hands out in front of him to be handcuffed.
Mr Davies told the jury they had to decide if Marc Lindsey's fatal blow was struck unlawfully, as he denies murder.
The trial is expected to last for a week.