Revised Fareham solar farm plans on show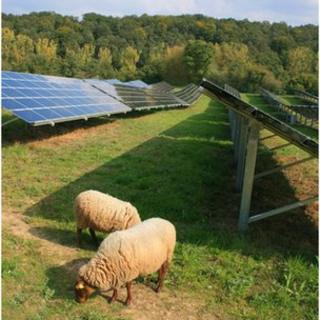 Revised plans for a £20m solar farm in Hampshire are going on show next week.
Vogt Solar Ltd wants to cover a 70-acre (28 hectares) site at Newlands Farm in Fareham with solar panels.
The new plans are about half the size of the original proposals which were withdrawn in February following objections by Natural England.
The firm said the farm would provide enough energy to power 5,500 homes and wants feedback from residents before submitting plans to the council.
Returned to farmland
The plans will be on show at the Holy Rood Church Centre in Stubbington on 11 June.
The original plans were for about 200,000 solar panels on 143 acres (58 hectares) of agricultural land.
The solar farm will be temporary and after 25 years the land will be returned to farmland.
While it is in use, the land can still be used as grazing for animals, such as sheep, the firm said.
Natural England criticised the original plans saying "insufficient information" had been submitted on the potential impact to wildlife at the site.
Some Fareham District councillors had also expressed concern that the farm would be an eyesore and was too close to the HMS Daedalus airfield.