Sir Ben Ainslie's race tribute to Andrew Simpson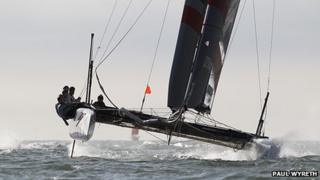 Sir Ben Ainslie has dedicated his record-breaking effort in the Round the Island Race to fellow Olympic sailor Andrew Simpson, who died last month.
Ainslie circumnavigated the Isle of Wight in two hours and 52 minutes.
Beijing Olympic champion Simpson, who died in a training accident when his catamaran flipped in San Francisco Bay, last took part in the race in 2011.
Sir Ben said: "He'd have loved to have been out here today and it's nice to do it in his memory."
Unique handicap system
The four-time Olympic champion was a pall-bearer at Simpson's funeral at Sherborne Abbey in Dorset on Friday.
Tributes were also paid to Simpson, nicknamed Bart, during a pre-race event where the Island Sailing Club's ensign was flown at half-mast.
Early weather conditions favoured fast times in the race, which started from Cowes at about 05:00 BST on Saturday.
Almost 1,500 boats and up to 16,000 sailors are taking part in this year's event.
Sailing in a 45ft America's Cup catamaran JP Morgan BAR, Ainslie shaved more than 16 minutes off Francis Joyon's record time, which had stood since 2001.
"It was a great race and we've been very fortunate with the conditions," he said.
Second across the finish line was ICAP Leopard, skippered by Mike Slade, taking more than 10 minutes off the monohull record.
Among the other finishers, Toe in the Water, entered by the Hampshire-based charity for injured servicemen and skippered by round-the-world yachtswoman Dee Caffari, crossed the line at shortly after 10:30 BST.
The annual event pits Olympic and professional sailors against keen amateurs.
Despite finishing first, Ainslie may not have won the race because its unique handicap system means even small boats can win the coveted Gold Roman Bowl.
'Fastest ever'
Five Degrees West, skippered by Tim Hedges, was provisionally awarded the top prize in what the organisers described as one of the event's "fastest ever" races.
A crew of retired and serving firefighters from Witney, Oxfordshire, were said to be "doing fine" on their first time in the race.
Crew member John Paul Williams said: "The ethos, the ability to communicate and to work in a team is key both in the fire service and in sailing. But our main aim is to get around without falling in."
With stronger winds so far than had been forecast, some damaged sails were reported.
Paralympic Gold medallist Helena Lucas reported splitting a spinnaker in half between the Needles and St Catherine's Point.
A spokeswoman for Solent Coastguard said they had been "extremely busy" but there were no reports of injuries and the rescue helicopter was not deployed in the early stages of the race.
There were two reports of people going overboard during the morning, with one man having to be picked up by the Lymington lifeboat.
Under race regulations all boats must be back in Cowes by 21:30 BST to avoid disqualification.