Southampton General Hospital surgeon warns of dehydration risks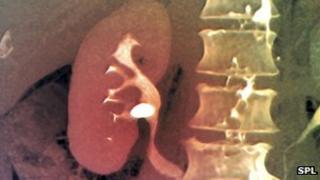 Adults need to be made more aware of dehydration risks following an increase in kidney stone patients, a Hampshire surgeon has said.
Bhaskar Somani from Southampton General Hospital, said people were "in denial" about the importance of drinking two to three litres of water a day.
He said monthly kidney stone admissions to the hospital had gradually increased from 12 to 20 since January.
A recent study showed a 63% rise in kidney stones from 2000 to 2010.
'Healthy lifestyle needed'
Stones are caused by minerals or acid salts crystallising in the kidney.
From there, they may move down into the ureter, the tube which carries urine from the kidney to the bladder.
In the worst cases, the ureter can become blocked, causing severe pain and needing emergency treatment.
Men are affected more often than women.
Increasing numbers of people in their 20s are also being affected, according to a study in the British Journal of Urology International.
Mr Somani, a consultant urological surgeon, said: "People remain unaware and, in some cases, in denial about the significance of preventative measures.
He added: "What we are seeing in Southampton is broadly reflective of the national picture.
"The only way to drive this down is to drive home the message that healthy lifestyle, diet and fluid intake is the best way to prevent the development and recurrence of stones."