Morrisons suspends worker over Help for Heroes wristband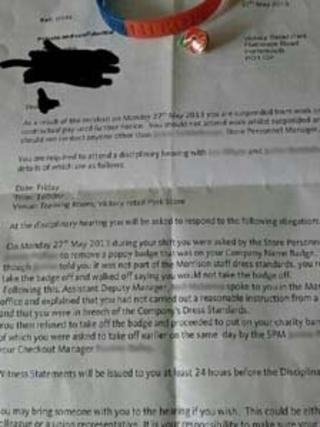 A Morrisons supermarket employee has been suspended for wearing a poppy pin badge and wristband supporting Help For Heroes.
Adam Austin, who works at the Victory Retail Park store in Portsmouth, faces a disciplinary hearing on Tuesday.
He received a letter on Monday informing him of his suspension on basic pay for allegedly refusing to obey staff dress standards.
Morrisons said its dress code banned bracelets and pins.
Mr Austin, from Buckland, Portsmouth, had been asked by two other senior members of staff on Monday to remove the wristband.
A disciplinary letter from the company said he was first asked to remove the poppy pin on his name badge, but refused to.
He was then spoken to by another member of staff, who said he had breached the dress code but the employee put on a Help For Heroes wristband and kept the pin on.
Morrisons said that, since the incident on Monday, it had reviewed its guidelines to allow non-fresh food preparation staff to wear charity wristbands.
A spokesperson for Morrisons confirmed Mr Austin worked in both fresh food preparation areas and non-fresh food preparation areas, such as the checkout.
Poppy Appeal
Morrisons issued a response on its Facebook page.
A spokesman said: "We understand that it's important to many people to show support for our armed forces.
"Morrisons is a long-time supporter of the Royal British Legion's Poppy Appeal and we welcome Help for Heroes fundraisers into store.
"As a company, we encourage store colleagues to show their support for the Royal British Legion by wearing poppies in October and November.
"We currently ask colleagues to adhere to a company dress code, which precludes bracelets and pins."
Several people have commented on the online statement, with some threatening to boycott the store and others asking for the employee's suspension to be lifted.
Morrisons would not comment on the disciplinary process and said the matter was continuing.