New independent leader chosen for Isle of Wight council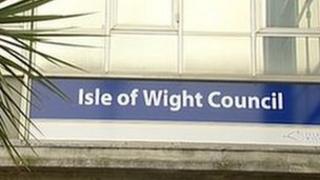 Independent councillor Ian Stephens has been elected as the new leader of Isle of Wight Council.
A group of 20 independent councillors has formed an administration after the Conservatives lost control of the council in the local elections.
Mr Stephens was elected as leader and councillor Steve Stubbings deputy leader at a full council meeting on Wednesday night.
Mr Stephens said: "Let us see the opportunity out there and grasp it."
He added: "We have been elected to take the island forward.
"There is talent in this chamber and on the island and we must tap into it. We will not do it on our own."
The council also appointed councillor Ian Ward as chairman for the forthcoming year, and councillor Charles Chapman as vice chairman.
Mr Stephens added: "Appointments have been made based not on political allegiances but on the ability to do the job."
In a statement, the authority said that while more councillors were being placed in positions of responsibility through being appointed deputy cabinet members, there would be no increase in their allowances or the overall budget for allowances.
At the elections earlier this month, former Conservative leader of the council, David Pugh was among those who lost his seat, beaten by independent Richard Priest in Shanklin South.
Councillor Dave Stewart has been selected as the new leader of the Conservative group.