HMS Alliance periscopes returned during restoration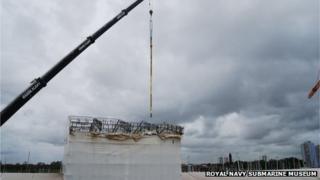 Periscopes from a World War II submarine have been returned as part of a £7m conservation project.
The two 40ft (20m) periscopes were lifted back on to HMS Alliance at the navy's Submarine Museum in Gosport, having being repaired on the Clyde.
One of the periscopes was used to help target and attack ships while the other was used for general vision.
Museum curator Bob Mealings described the views of Portsmouth Harbour from the periscopes as "amazing".
HMS Alliance is the only surviving World War II A-class submarine.
Conservation work on it started in October 2011 and is expected to finish in April 2014.
The submarine will act as a memorial to the 5,300 British submariners who gave their lives in service between 1904 and the present day.
It is listed in the UK's historic ships' register, alongside the Cutty Sark, the Mary Rose, and HMS Victory.