Oxford's Carfax Tower fall victim dies in hospital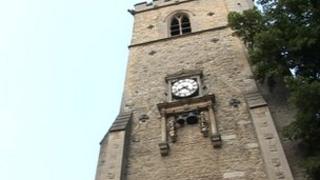 A man has died after falling from the 14th Century Carfax Tower in Oxford city centre.
Officers from Thames Valley Police were called to the tower, which is the only remaining part of the St Martin's Church, at about 10:00 BST.
The man was taken to Oxford's John Radcliffe Hospital where he was later pronounced dead.
Police cordoned off Queen Street from Castle Street to Carfax while they worked at the scene.