Vote 2013: 'UKIP factor' in Hampshire and Isle of Wight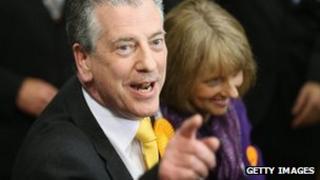 The most startling factor while looking at the candidates standing in Hampshire is finding the rise of the UK Independence Party (UKIP).
When the last election for the county council was held in 2009 the party fielded candidates in 42% of the seats - now it's 92%.
The Eastleigh by-election - where they recorded their best-ever performance in a Westminster poll - did not only boost UKIP morale, it has improved their organisation and given them a hunger to progress further.
But that contest has also helped the Liberal Democrats in Hampshire, where more than 300 candidates will be standing for election on 2 May.
The Lib Dem's campaign manager in Eastleigh, Councillor Keith House, is the opposition leader on the county council and rehearsed many of the arguments now being deployed against Conservatives.
'Knife edge'
From attacks on the shiny new county council headquarters building, to protests against gravel extraction, the Lib Dems can rely on grassroots leaflet delivery.
The Tories are making a stout defence of their efficiency programmes while pointing to the fact they have tried to keep council tax down.
But any split in their vote with UKIP will hurt.
In 2009 the Tories boosted their majority, winning a total of 51 seats compared to the Lib Dems 25 - although one of their members has since defected to become the Green Party's first county councillor in Hampshire.
Labour and an Independent each picked up one seat.
Those figures may appear to point to an easy Conservative hold but many seats were left on a knife edge four years ago.
The Conservatives would lose Tadley in Basingstoke on a swing of just 0.6%, Alton Town on 1% and Farnborough North would be lost to the Lib Dems on 1.9%.
Labour and UKIP probably have their best hope of gains in the north of the county.