Shirley Towers flats blaze: 'Possible safety breaches'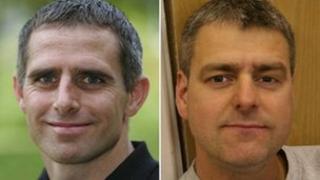 Health and safety rules are likely to have been breached during a tower block fire that led to the deaths of two firefighters, a report has revealed.
The Health and Safety Executive (HSE) said certain acts or omissions could have affected how the Shirley Towers tragedy developed in Southampton.
But it found no single breach could have caused the deaths of Jim Shears and Alan Bannon in 2010.
The HSE findings came in a Hampshire fire service report into the blaze.
They match those of coroner Keith Wiseman following inquests into the deaths of Mr Bannon, 38, from Southampton, and Mr Shears, 35, from Poole.
'Intense heat'
The investigation report by the fire service, released earlier, included a letter from the HSE from 2012.
It said: "It was likely that certain parties had breached health and safety legislation, in relation to actions taken, instruction omitted, or through the inadequate provision of safe procedures."
It added: "The evidence did not reveal any single act or omission, or defective or absent procedure, which taken alone could be said to have caused the deaths."
The HSE said no prosecutions were pursued following the fire on 6 April 2010 because it was not in the public interest.
Meanwhile Hampshire Fire and Rescue Service's report made 99 recommendations for improvement - many of which, it said, had already being implemented.
Alan Bannon's sister Lin Trott said: "The key thing is that, as each of these areas for improvement were identified, it's nice to know Hampshire Fire and Rescue Service was on it right away and trying to make these changes."
The report revealed vital information from the first 999 caller about the location of the blaze was not passed on.
'Communication lost'
The first crew entering the ninth-floor flat did not find the blaze in the lounge or put it out before going to the upper floors.
The second crew did not report finding the fire and followed the first crew upstairs, meaning both crews were exposed to intense heat from the developing blaze.
There was then a delay in instigating an emergency situation after communication with Mr Bannon and Mr Shears was lost while the blaze was being tackled.
This meant Mr Shears' breathing apparatus would have "almost certainly" run out before help arrived, the report said.
Cables fell and trapped Mr Shears and Mr Bannon after plastic trunking they were cased in melted - and the pair had no cutting equipment to free themselves.
The fire service now issues cutters with breathing apparatus and has taken steps to reduce the risk of cabling becoming trapped in the kit.
John Bonney, chief officer, said: "Our report echoes many of [the coroner's] findings and we will do everything in our power to ensure they are acted upon."
Paul Trew, secretary of Hampshire Fire Brigades Union, said he needed time to thoroughly review the report.
But he added: "We are not looking to apportion blame, we are trying to find out what went wrong and are seeking ways to readdress this."
Mr Shears and Mr Bannon were one of a pair of two-man teams first to arrive at the flat after the fire broke out when a resident left a curtain resting on a lamp.
Mr Bannon died at the scene. Mr Shears died later in hospital.
An inquest into their deaths returned a verdict of death by misadventure.
The finding was delivered with a narrative verdict which noted the pair died as a result of exposure to excessive heat.
The Department for Communities and Local Government said it had written to all fire services and social housing landlords to make them aware of the coroner's recommendations following the inquest.