Portsmouth fan Scott McLachlan finishes 92 stadiums walk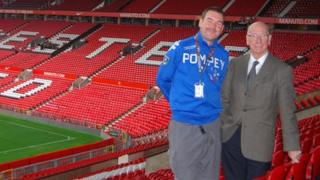 A Portsmouth man has completed a fundraising walk which has taken him to all 92 football league grounds in England and Wales.
Pompey supporter Scott McLachlan has walked that 2,400 miles since August last year and raised more than £7,000 for Prostate Cancer UK.
He reached his final stop, the Amex Stadium in Brighton on Saturday, and returned to Portsmouth earlier.
Mr McLachlan began his walk at Fratton Park.
He said: "I was treated very well at nearly every club.
"At Manchester United Sir Bobby Charlton heard of my efforts and asked to meet me, and at rivals City I was allowed time with the Premier League trophy.
"Many other clubs gave me mementos or gifts to auction to raise funds.
"It's been a long, tough seven months actually walking but I couldn't have finished without the support from my leg organisers or the literally hundreds of people that have aided me in some way as I walked the 2,400 miles around the country.
"To finish at Fratton Park and be welcomed home is one of the thoughts that kept me going through some of the tougher stages.
"It will be a relief to finally take off my rucksack and walking boots at the end of this truly humbling journey."