Fawley power station closes after 41 years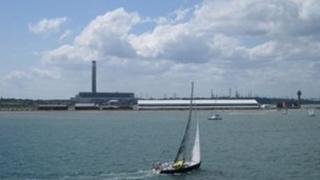 A Hampshire power station has closed after more than 40 years in operation.
Oil-fired Fawley Power Station, on the western side of Southampton Water, was commissioned in 1971.
The firm said Fawley was "state-of-the-art" when it was built, but now falls foul of EU emissions rules, which meant it had to close by 2015 at the latest.
The decommissioning and demolition of the plant is expected to take several years, the future of the site remains undecided.
Some of the 60 staff at the plant, capable of powering one million homes, will remain during decommissioning, others will move to other jobs within the RWE Group.
Nick Stockdale, Fawley Power Station Manager, said: "We have a fantastic team at Fawley and I would like to thank them for their hard work and dedication over the 40 plus years we have been operational."
The firm said the power station's open cycle gas turbine will remain operational.