Mike Hancock investigated for council code of conduct breach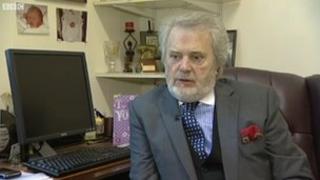 Portsmouth South MP Mike Hancock is to be investigated by the city council - which he also serves on as a councillor - following a complaint.
The Liberal Democrat is accused of breaching Portsmouth City Council's code of conduct, but the authority has not revealed any further details.
Mr Hancock, 66, says he "vigorously denies" breaking the code and will co-operate fully with the inquiry.
The investigation is expected to take up to three months.
Michael Lawther, city council solicitor, said: "A sub-committee of Portsmouth City Council today decided to refer a complaint against councillor Mike Hancock for investigation."
He said the assessment committee, made up of three councillors, had considered evidence of a breach and decided there was a case to answer, but made no judgement as to whether or not there had been a breach.
Mr Lawther added: "I will now appoint an independent lawyer to carry out an investigation.
"If a breach is proved against a councillor, they can be censured for their conduct."
Russian spy claims
A spokesman for Mr Hancock said: "The allegations have previously been investigated by the police but no further action was taken."
The MP was arrested on suspicion of indecent assault in 2010 but never charged.
He was accused of "inappropriate behaviour", which he denied, towards a female constituent following a series of visits he made to her home.
"Mike Hancock will co-operate fully with the investigations of the city council and does not feel it appropriate to comment further," the spokesman said.
"In the meantime he is recovering from major heart surgery and will continue to serve his constituents as an MP and a councillor to the best of his ability."
Mr Hancock hit the headlines after he had an affair with his aide, Katia Zatuliveter, who was accused of being a Russian spy.
Miss Zatuliveter won her appeal against deportation in November 2011 after the Special Immigration Appeals Commission said it had seen nothing to prove she was a spy tasked with seducing Mr Hancock.
Mr Hancock resigned from his post on the defence select committee as a result of the investigation but said he had not passed on material to Miss Zatuliveter which was not in the public domain or which was classified.