Museum of Army Flying displays World War I correspondence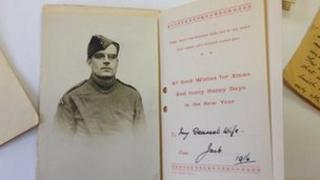 Postcards from an air mechanic on the front line to his wife during World War I are among a raft of rare items at a new exhibition in Hampshire.
The postcards sent by Jack Cooper in 1916 and 1917 are among wartime correspondence on display for the first time at the Museum of Army Flying.
The exhibits explore World War I communications, the Post Office and its impact on war and home fronts.
The Last Post: Remembering the First World War opened earlier.
'Great opportunity'
The exhibition from the British Postal Museum and Archive also includes a postcard commissioned by the father of second Lieutenant P S Joyce.
He was last seen flying over Bapaume in a Nieuport Scout at 11:00 on 6 March 1917.
The postcard, containing an image of Mr Joyce's son, features appeals in English, French and German for information on his whereabouts, after his disappearance.
Silk postcards, a Christmas card dating back to 1916 from No.6 Squadron RFC, which was based at Abele, France, at the time and items from the museum's archives that have never before been displayed are also among exhibits.
Curator Susan Lindsay said: "We have been able to pick out things that really fit this particular topic.
"It's a great opportunity for us to give a window on people's lives at the time.
"Of course a lot of people sent postcards but also postcards were quite a crucial way of communicating to the public in a positive way what was actually going on.
"Quite often if there was a big incident, they would quickly rush out a relevant postcard and this could be on display a few days after the incident had happened."
The exhibition runs at the museum in Middle Wallop, Stockbridge, from today until 27 September.