Thames Valley Police recruits should get £22k salary: Chief constable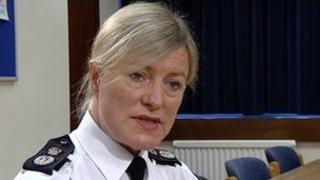 New police constables in the Thames Valley will be paid £3,000 above the government-set minimum salary, the force's chief constable has indicated.
Sara Thornton said she intended to set the starting salary at £22,000 from 1 April instead of the recommended figure recently cut to £19,000.
Thames Valley Police said no final decision could be made until the legislation was in place from 1 April.
It is still a pay cut for new starters, who would have received about £23,000.
In January, Home Secretary Theresa May accepted a cut in starting salaries as part of recommendations on reform made by the Police Arbitration Tribunal.
Under those proposals, the £19,000 salary is to be given to those with the least or no relevant experience - such as those who join at 18.
£19,000 'too low'
But some recruits will start on £22,000 if they have some experience, such as time spent as a special constable.
Anthony Stansfeld, Thames Valley Police and Crime Commissioner said he was "fully supportive of the chief constable's wishes to set the starting salary at £22,000".
Thames Valley Police Federation said it was making representations to the force and would welcome seeing the higher starting salary of £22,000.
A federation spokesman said: "We think £19,000 is clearly far too low and would not attract the quality of recruits we need.
"With the higher living costs here in the South East, those joining later in their career would see a cut.
"You need both, the new young recruits, but also the more experienced.
"It would mean we would not be able to recruit the more experienced people."
The move does not require government approval.
The change in starting salaries will save an estimated £140m over five years.