Aldershot receives £100m as part of Germany troop withdrawal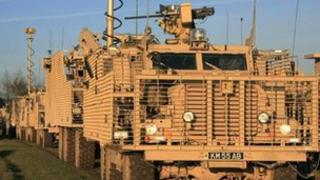 About £100m is being spent to develop Army bases in Hampshire as part of plans to accommodate thousands of troops returning from Germany.
Aldershot is to become the base for heavy protected mobility infantries, and Wiltshire, Yorkshire and London battalions are moving to the area.
The new "centre for excellence" will accommodate armoured military vehicles like the Mastiff.
Brig Neil Baverstock, the regional commander, called it "good news".
He added: "[It] not only brings increased investment to the area by the MoD, but also learning where units and families will be based in the coming years will give them the certainty they need to plan their futures."
Returning forces
Plans include Lille Barracks becoming home to 4th Battalion The Rifles, currently based in Bulford, with 1st Battalion The Grenadier Guards moving out to Keogh Barracks.
Mons Barracks will become home to 1st Battalion The Scots Guards, currently based in Catterick, with 1st Battalion The Irish Guards moving out to Hounslow.
The 1st Battalion The Welsh Guards will move from Hounslow to Queen Elizabeth Barracks at Pirbright, and 8 Engineer Brigade will move to Minley.
The 11th Infantry Brigade and Headquarters South East will be based in Aldershot.
In addition 27 Theatre Logistic Regiment in Aldershot and 3 Close Support Regiment Royal Logistic Corps in Abingdon will swap sites.
There has been a British army presence in Germany for nearly 70 years.
Returning forces will be stationed around seven sites, including Salisbury Plain, Edinburgh and Leuchars, Catterick and Colchester.
Defence Secretary Philip Hammond said the return of troops from Germany marked the end of an era, and thanked the German government and people for their "material and moral" support.