New MP Mike Thornton takes his seat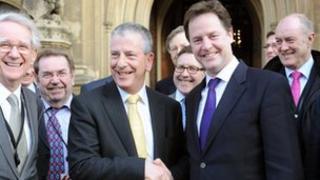 The newly elected Liberal Democrat MP Mike Thornton has taken his seat in the House of Commons after winning the Eastleigh by-election.
He took his oath of allegiance to the Crown earlier.
New MPs are not allowed to speak in debates, vote, or get paid, until they have been sworn in.
Deputy prime minister Nick Clegg welcomed Mr Thornton to Westminster as he arrived on Monday, congratulating him on "that superb victory".
"All of us were out there campaigning for you and so all of us are now looking forward to you helping us back at this place," Mr Clegg told him on the steps of the Palace of Westminster.
The by-election was called after former Lib Dem cabinet minister Chris Huhne resigned as an MP following an admission he had perverted the course of justice over driving licence points.
Mr Thornton won 13,342 votes, the Conservatives were beaten into third place by UKIP, whose candidate Diane James won 11,571 votes.
Conservative Maria Hutchings won 10,559 votes, while Labour's John O'Farrell came fourth with 4,088 votes.