Ringwood's Gorley Road toad crossing volunteers sought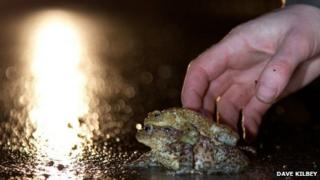 Volunteers are being sought to save hundreds of amorous toads from being killed on a road in Hampshire.
Common toads cross Gorley Road in Ringwood to spawn in nearby lakes, from early March until the end of April.
Ringwood Amphibian Conservationists runs an annual patrol by volunteers who assist the toads with the crossing. Last year they saved about 400.
Volunteer numbers have declined from 28 to 12 this year and organisers are worried this will affect toad numbers.
'Painful death'
Common toads are believed to be declining across the UK because of habitat loss, according to amphibian and reptile conservation group Froglife.
The charity added research showed the chances of a toad being killed whilst migrating across a road were as high as 67%.
Teresa Baker, who set up the Gorley Road patrol in 1989, said: "Years ago, we would save over 1,000 toads at the site but for the past two years numbers have been around the 350 to 400 mark due to the decline.
"Now the patrol has more than halved, even more toads face a painful death from motorists running them over."
The toads cross the road at night, and Froglife said there are about 880 spawning sites in the UK that require a road to be crossed.
A spokesperson for the charity added: "If we want to conserve our toad populations into the future, it's vital that we continue to take action to help the species deal with the fragmentation of their habitat by roads."