Damien Nettles: Missing teen suspects 'have died'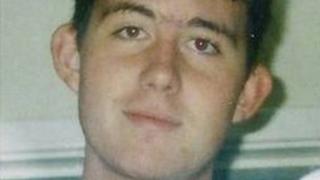 Some suspects in the disappearance of an Isle of Wight teenager 16 years ago have since died, police have confirmed.
Damien Nettles went missing following a night out with friends in Cowes on 2 November 1996 when he was aged 16.
Hampshire Constabulary's Supt David Powell said he maintains an "open mind" about what happened to the teenager and is not ruling out murder or foul play.
He has renewed a plea for details - exactly one month before the offer of a £20,000 reward for information closes.
Supt Powell said: "There are various theories and lots of information about who might have been involved in Damien's disappearance.
"Some of that information relates to people who are now dead. We maintain an open mind about the involvement of these people.
"We have conducted a very thorough investigation into Damien's disappearance but we are still wanting the facts of what actually happened to allow us to find him."
'Malicious allegations'
In 2011, detectives arrested eight people on suspicion of murdering Damien, who lived in Woodvale Road, Gurnard, Cowes.
They were questioned over the course of a year and released with no further action.
Hampshire Constabulary has received at least 20 pieces of information about his disappearance since putting up the £20,000 reward on 4 October.
None have led to new lines of inquiry as the information was either inaccurate or proved to have come from an unreliable source.
The investigation into Damien's disappearance has been dogged by rumours and some malicious allegations about possible burial sites.
His mother Valerie Nettles has also called for the reward deadline to be extended. Police said they will review the situation in April.
She added: "I've always got to be a little bit hopeful, I've heard lots of snippets of information... over the years.
"I pass that information to police but it seems like so far there's nothing, it's been kind of thrown away as not reliable or not worth anything."
Supt Powell added: "The fact I'm still appealing for information means I still want that accurate piece of fact I keep asking for that's going to lead me to find Damien and find out what happened to him.
"The case has not been put on the back burner, it's not been fobbed off, we are taking it very seriously."