Jail for man who exploited trafficked Polish workers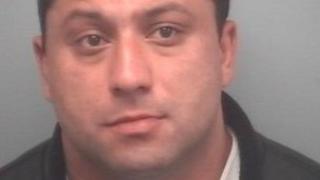 A man who trafficked Polish nationals into Portsmouth in an operation resembling a "Charles Dickens novel" has been jailed.
Dawid Siwak, 30, offered the four men work in the UK, housed them in crowded flats and retained most of their wages.
Last month, a jury at Portsmouth Crown Court convicted him of four counts of human trafficking and four counts of keeping a person in servitude.
He was jailed for six years and three months.
One of Siwak's victims, who did not want to be named, told BBC News: "I was really scared, I was in a foreign country and I didn't know anyone here.
"Because of him I cannot sleep, I got problems with my heart, I'm distressed, nobody ever in my life harmed me as much as he did."
Sentencing Siwak, Judge Roger Hetherington told him: "They felt they were trapped and they were trapped, by conditions of enforced poverty, by violence or fear of violence and a general feeling of helplessness with no one to turn to for assistance and no way out.
"You are a physical and mental bully."
When his victims came the the UK, Siwak got them jobs such as packing salads, and discouraged them from taking other work.
'Cheated and exploited'
He took them to open bank accounts and then withdrew their wages as soon as they were paid.
During the trial, prosecutor Barnaby Shaw said the facts of the case resembled a Charles Dickens novel.
"They felt cheated and exploited," he said.
Siwak, of Nelson Road, Southsea, was sentenced to six years in prison for each count, to run concurrently, and three months for breaking a conditional discharge.
His wife, Roza Urbanowic, 34, was earlier cleared of four counts of holding a person in servitude.
James Kellam, Crown Advocate for the Crown Prosecution Service, said the workers came to the UK for a better life but that hope was "quickly shattered".
Polish citizens are free to enter the UK, but the offence of trafficking includes arranging the arrival in the UK of any person with the intention of exploiting them.