A Hampshire PC hopes to set up youth 'peer courts'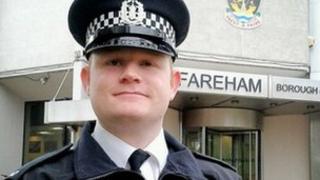 A police officer is planning a pilot project to try and transform the way some young criminals are dealt with.
Hampshire PC Mark Walsh hopes to set up a scheme so young people can decide punishments for peers committing their first crime - if it is a minor offence.
PC Walsh will spend six weeks in the USA researching how "peer courts" work after winning funding from the Winston Churchill Memorial Trust.
He hopes his findings can help form the basis for a pilot in Hampshire.
The father-of-two has recently been awarded one of 125 Winston Churchill Memorial Trust "travelling fellowships" to fund his fact-finding mission.
He will use the trip to assess how peer courts - which are already successful in some parts of the USA - can be adapted for the UK.
PC Walsh said: "I'm looking at creating a community court which will see young people at the heart of the process, carrying out roles traditionally done by adults as positive peer pressure.
"The punishments in peer courts in the USA are based on education and related to the offence. If it is a minor arson, normally that offence would attract a charge.
"But as a diversion we might use the peer court and they might have to visit a burns hospital to see the effects of fire and work with the fire service, for example.
"Because this message and these punishments are coming from other young people I hope to create a positive community message about acceptable behaviour."
Jo Rowland, head of Hampshire Constabulary's custody and criminal justice department, said: "Mark is a very experienced constable who works with young people daily.
"When he presented his project idea to me I was delighted to offer support and encouragement.
"It's very innovative and seeks to empower young people in our community to work with us to continue to make them safer.
A final decision on whether to introduce the scheme would lie with Hampshire Police and Crime Commissioner Simon Hayes.