Duke of Kent unveils Portsmouth WWI memorials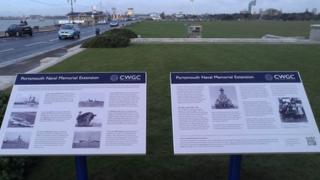 New memorials to casualties of World War I have been unveiled in Hampshire.
The Commonwealth War Graves Commission is installing more than 500 information panels to mark the centenary of the conflict.
The Duke of Kent, president of the commission, visited the Portsmouth Naval Memorial and Southampton Hollybrook Cemetery.
The panels include QR (Quick Response) codes which can be read by smartphones to tell visitors stories of the fallen.
More than 100 of the memorials are being erected at sites across the UK.
Among those commemorated on the Portsmouth panel are Sgt William Pope, who died at the Battle of Jutland in 1916, aged 37.
Sgt Pope was part of the Royal Marine Artillery. A number of his relatives were present at the unveiling, including his great niece, Eluned Glover.
Ms Glover, 67, has travelled from Cardiff to Portsmouth.
She said: "I think this is hugely important for the next generation.
"I'm hugely excited my great uncle is playing a part in these new memorials."
The Portsmouth Naval Memorial panel also tells the story of David Bedell-Sivright, a Scottish rugby international who captained the British Lions and died at Gallipoli in September 1915.