Eastleigh by-election: Miliband restates 10p tax pledge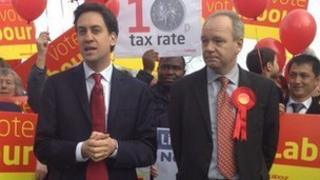 The Eastleigh by-election will be the "living standards election", Labour leader Ed Miliband has said.
Speaking in support of his party's candidate John O'Farrell, Mr Miliband said Labour would reintroduce a 10p tax rate paid for by a "mansion tax".
Prime Minister David Cameron, Lib Dem leader Nick Clegg and UKIP's Nigel Farage have all visited Eastleigh.
The by-election comes after Lib Dem Chris Huhne resigned having admitted perverting the course of justice.
The full list of candidates was confirmed on Wednesday.
'Real change'
Labour wants a mansion tax on £2m properties and for the proceeds of the levy to be used to re-introduce a 10p rate of tax.
Mr Miliband said: "The people of Eastleigh know that John O'Farrell, if elected on 28 February, will... represent change. They know he'll fight the government.
"They know he'll support a mansion tax and the return of the 10p tax rate.
"They know that the choice they face on 28 February is between two candidates from the government and a One Nation Labour candidate in John O' Farrell who, if elected, will support real change."
But a Downing Street spokesman called the mansion tax a "stunning admission of economic incompetence".
"The losers from Labour's 10p tax fiasco have become winners under this government," he added.
Lib Dem Treasury Secretary Danny Alexander said Labour were "late to the party" on the need to reduce the tax burden on the lowest paid.
The Eastleigh by-election was set in motion when Chris Huhne stepped down as an MP on 4 February.
He had admitted charges against him over claims his ex-wife Vicky Pryce took speeding points for him a decade ago.
Huhne, a former financial journalist and MEP, had been the MP for Eastleigh since 2005. He had a majority of nearly 4,000.
The by-election will take place on 28 February.
The final list of candidates in alphabetical order is:
COLIN BEX - Wessex regionalists
DAVID BISHOP - Elvis Loves Pets Party
JIM DUGGAN - Peace Party
RAY HALL - Beer, Baccy and Crumpet Party
HOWLING LAUD HOPE - Monster Raving Loony William Hill Party
MARIA HUTCHINGS - Conservative
DIANE JAMES - UK Independence Party
DR IAIN MACLENNAN - National Health Action Party
KEVIN MILBURN - Christian Party "Proclaiming Christ's Lordship"
JOHN O'FARRELL - Labour
DARREN PROCTER - Trade Unionist and Socialist Coalition
DANNY STUPPLE - Independent
MIKE THORNTON - Liberal Democrats
MICHAEL WALTERS - The English Democrats - "Putting England First!"