'Naked rambler' freed on bail after Oxfordshire charge dropped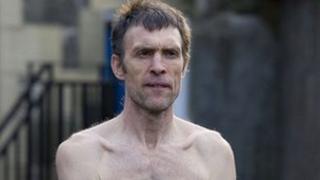 The man known as "the naked rambler" has been released on bail after a charge of outraging public decency in Oxfordshire was dropped.
Stephen Gough, 53, from Eastleigh, Hampshire, appeared via videolink at Oxford Crown Court on Thursday.
The Crown Prosecution Service reviewed the case and found "insufficient evidence" for a realistic prosecution.
The case was discontinued after the time Mr Gough has spent in jail on remand was taken into account.
He was accused of outraging public decency in Carterton, Oxfordshire, in December.
Pending cases
The Crown Prosecution Service said a public order charge would be more appropriate but as this does not carry a custodial sentence it would not be in the public interest to proceed.
Mr Gough was released from Leeds prison after the charge was dropped on Thursday evening.
He remains on bail for a number of other pending court cases, including in Halifax where he has appeared this week.
Mr Gough had previously told Oxford Crown Court of his intention to stand trial naked.
His lawyers cited a previous case in 2001 when activist Vincent Bethell was granted permission to have no clothes on during his trial at Southwark Crown Court for allegedly causing a public nuisance. He was acquitted by a jury.