Volunteers' hopes for 'haunted' Wymering Manor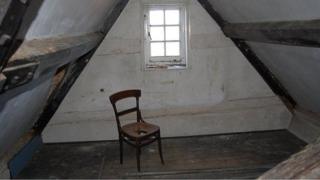 "I worry what I'm going to find every time I come here," says Wymering Manor trustee Andrew Mason as he carefully opens the imposing green panelled front door into the entrance hall of Portsmouth's oldest house.
Built in Tudor times, now surrounded by modern suburbs, the house is reputed to be haunted by more than 20 ghosts.
Ownership of the Grade II* listed historic building has been transferred to a trust of volunteers by the city council after attempts to sell it failed.
The building has been a vicarage, home to a Catholic religious order, a family house and most recently was a youth hostel. It has sat unused since 2006.
Ghost hunters
Mr Mason leads the way the through the maze of chilly corridors, up twisting staircases, past walls with paint flaking off.
"It's scruffy and not much to look at. We've had structural reports which seem to be fairly reasonably - it needs fairly significant amounts of money spent on it, but it's not bad despite first appearances," he said.
Built around 1581, with various add-ons and extensions since, there are still unmistakable signs of previous occupants and the manor's historical significance.
There are priest holes from a time when the Catholic residents had to worship in secret, the original oak front door and the rooms where Queen Emma of the Sandwich Islands (in the Pacific Ocean) stayed in the 19th Century.
A reputation as a haunted house has attracted ghost hunters, including the UK's Most Haunted TV show.
It is said to be haunted by a choir of nuns and Sir Roderick of Portchester, who was murdered outside the manor in the Middle Ages.
"There's been a lot of interest in the paranormal and a lot of tours in here - they tend not to be disappointed in what they find.
"We have to be very careful how we approach it and be quite respectful, but if it gets people interested in Wymering Manor, that can only be a good thing," said Mr Mason.
'Big task'
Owned by the city council, the building has been unused since 2006.
Plans to convert it to a hotel fell through and two attempts to auction it also failed with developers seemingly put off by its listed status and state of disrepair.
With the council unable to afford the upkeep, it has been given to a trust of volunteers which has the task of making the building financially sustainable, despite the current economic climate.
Parts of ceilings in a couple of rooms are held up with scaffolding following the collapse of a corner of the building. Just making the structure sound is estimated to cost about £500,000.
"It's such an interesting building and so worthwhile. It suffers a little but it's still clearly an important house and there's so much we can learn from it," said Mr Mason.
The full project could cost in the region of £2m. An initial application for an appraisal from the Architectural Heritage Fund is being prepared, with plans for a Heritage Lottery Fund bid, along with community fundraising and approaches to local businesses.
Portsmouth North MP Penny Mordaunt chairs the Wymering Manor Trust and insists the money can be raised.
"We wouldn't have embarked on the project if we weren't confident it would be sustainable and could provide a community facility which will be used for many many years.
"Lots of people really see its potential - it could be a wonderful space," she said.
Plans for its eventual use are still be decided, with the trust keen to develop it as community facility - with ideas including creating a hub for social enterprises or making it available for wedding receptions or corporate events.
Ms Mordaunt insists potential funders have been "very positive" about the house.
"The ghosts have played their part in generating interest in the manor. They will always be part of the manor but there is so much more to the house, as we give it a bigger, new life," she said.