Alfred the Great body search in Winchester church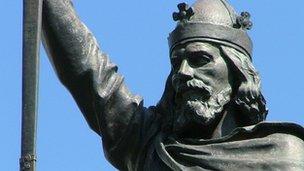 An unmarked grave in a Winchester church could be exhumed in the hunt for the remains of King Alfred the Great.
The University of Winchester has applied for permission to examine the grave at St Bartholomew Church.
It is thought the bones of the Saxon king could have been buried there in the 19th Century, having been removed from the ruins of Hyde Abbey.
The application comes after the remains of Richard III were found under a car park in Leicester.
The University of Winchester is seeking permission from a diocesan advisory panel of the Church of England, which will consult English Heritage before a judge makes a final decision.
Alfred's remains are known to have been moved several times since he was buried in the city's old minster in 899 AD.
They were moved in 904 to a new church to be alongside his wife and children, before being moved again to Hyde Abbey in 1110.
The abbey was destroyed during the dissolution of the monasteries in 1539 and studies indicate the tomb was robbed.
It is believed some bones were put on display in the 19th Century before being buried at St Bartholomew Church.
Experts will rely on radio carbon dating to assess the remains.
Dr Katie Tucker of the University of Winchester said: "If the bones are from around the 10th Century then that is proof they are Alfred and his family because Hyde Abbey was not built until the 12th century and they would be no reason for any other bones from the 10th century to be there,
"This is a long shot because unlike with Richard III there is no complete skeleton. We only know they are five skulls and some bones and we also don't know if the bones are monks from the abbey."
The university is hoping that permission will be granted this spring and results could be due in the early summer.
Alfred was King of Wessex but was referred to as King of the English towards the end of his reign after he united areas of the country and defeated the Danes in several battles.
Related Internet Links
The BBC is not responsible for the content of external sites.