Portsmouth-based HMS Cattistock heads to Mediterranean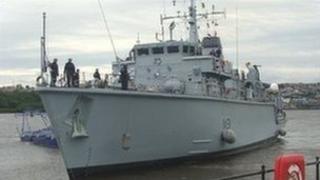 A Royal Navy warship has set sail from its base in Hampshire for a four-month NATO mission in the Mediterranean.
Portsmouth-based HMS Cattistock has been deployed as part of Standing NATO Mine Counter Measures Group 2 (SNMCMG2).
Ships from allied nations work together to defend sea routes from the threat of underwater mines.
The navy said the deployment of the minehunter demonstrates "the UK's longstanding commitment to NATO".
Lt Cdr Stephen Higham, the vessel's commanding officer, said: "This deployment is a great opportunity for the ship to learn from shared experiences, contribute to regional security and showcase the Royal Navy's skill as the world's leading experts in mine warfare."