Safeguarding plan for Stanbridge Earls School that failed to protect pupil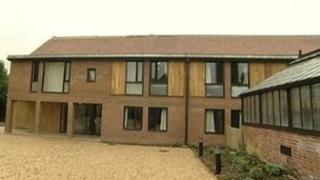 Trustees of a school criticised in a tribunal for excluding a girl after she said she was raped twice by students have agreed a safeguarding plan.
Stanbridge Earls School for children with special educational needs in Romsey, Hampshire, was found to have discriminated against the girl.
The tribunal said it had cause for "grave concerns" about safeguarding.
The trustees agreed to appoint an independent expert and provide specialist training to staff.
The First-tier Tribunal Special Educational Needs and Disability found the school failed to protect a vulnerable disabled pupil who was a victim of grooming and sexual abuse by male pupils at the school.
'Highly regrettable'
Tony Knight, chairman of the trustees, said they were "taking comprehensive and immediate action to ensure that safeguarding needs at the school are properly met".
"The tribunal's requirements will be met as a matter of urgency.
"Independent advisers will be engaged to ensure the process of reform is transparent and benefits from a wide range of expertise.
"While the school has consistently been highly rated for its standards of education and safeguarding, this episode - a highly regrettable and unique case which does not reflect the way the school normally meets the needs of its pupils - shows there is always more that can be done."
The tribunal heard the girl visited the school nurse and said she had had a sexual encounter, but the school did not contact her parents, believing she had consented to the encounter.
She later told her mother that she had had sex in a separate incident and she contacted the school.
The claim was reported to the police via Hampshire Social Services when her parents were told about the previous sexual encounter.
The following term the girl says she was raped again and the school said she would have to be excluded because she had broken rules by having sex on school grounds.
The tribunal branded the failure "inexcusable".
The girl, who cannot be identified for legal reasons, no longer attends the boarding school.