Royal Marines School of Music memorial room for war musicians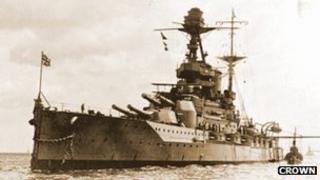 A memorial room commemorating the Royal Marines musicians who died during World War I and II has opened in Portsmouth.
The Band Service Memorial Room at the Royal Marines School of Music includes boards listing the names of all 448 musicians who died.
Dennis Miller, whose twin brother George was killed in 1941 while serving as a Boy Bugler on board HMS Barham, was a special guest at the unveiling.
The battleship was torpedoed in the Mediterranean killing 841 crew members.
'Ultimate sacrifice'
Mr Miller, 88, from Portsmouth, said he also applied to join HMS Barham as a bugler but was turned down as he had a gap in his teeth which meant he was unable to play.
Maj Jason Burcham, director of music at the school, said: "The memorial room is a living commemoration to those musicians and buglers who made the ultimate sacrifice.
"It is a place for us to remember with pride the achievements of our forbears and current comrades in all aspects of their operational and ceremonial roles and endeavour to live up to their example."
Previously the boards honouring the musicians were displayed across different sites at the school and band service headquarters.
Drummers and buglers from the school performed a short display before the official opening by Colonel David Kassapian, Commandant of the Commando Training Centre at Lympstone, Devon.