Hampshire and IoW: Road warnings for icy conditions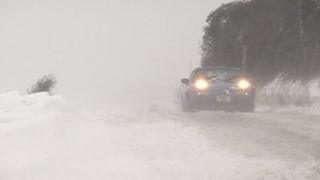 Travel conditions remain difficult around Hampshire as temperatures fall following heavy snowfall.
Hampshire police said minor roads in particular could be icy into the weekend.
South West Trains and the Southern network are continuing to run revised services throughout Saturday.
Southampton Airport runway reopened at 17:30 GMT on Friday after being closed all day. Passengers are being advised to contact airlines before travelling.
A number of bus companies renewed limited services on Friday afternoon, with passengers advised to check their websites.
'Continuously gritting'
Hampshire County Council said 2,000 tonnes of grit had been spread on the county's road over 36 hours.
Spokesman Stewart Jarvis said: "We have coped well and have been continuously gritting to get the roads back under control.
"The advice is be careful and drive cautiously."
Forecasters say the snow is likely to ease over the weekend but it will continue to feel cold in a raw easterly wind.
More than 600 schools closed on Friday, with the Met Office recording snowfall of up to 8cm (3in) in places.
Meanwhile, more than 1,000 people were without electricity after a power cable came down in Ower on Friday afternoon. There were also power cuts in West Wellow on the Isle of Wight.
Gritters were deployed around Southampton General Hospital to help traffic get in and out.
More than 100 volunteer 4x4 drivers trained by Hampshire Fire and Rescue Service were also drafted in to help people most in need.
The enhanced content on this page requires Javascript and Flash Player 9
Map Key
Land
Cloud
Lakes, Rivers & Sea
Fog
Light
Heavy
Frost
Light
Heavy
Pressure Fronts
Cold
Warm
Occluded
Rain
Light
Heavy
Extreme
Snow
Light
Heavy
Temperature tab only
Temperature (°C)
More details from BBC Weather