Hampshire and IoW: Two coaches break down on A3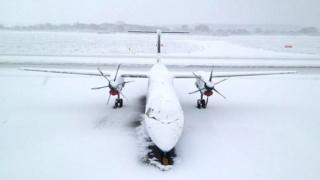 Two coaches have broken down in snow in Hampshire with one person on board being treated for a diabetic condition.
Drivers stuck northbound from the Liphook services on the A3 have been told not to abandon their vehicles.
Meanwhile, more than 1,000 people were without electricity after a power cable came down in Ower.
The runway at Southampton Airport reopened at 17:30 GMT after being closed all day
Hampshire police said it has already removed a number of abandoned vehicles from the A3 due to an earlier accident.
But stuck drivers due to the broken down coaches should remain to ensure the road can be cleared as quickly as possible.
More than 600 schools closed on Friday, with the Met Office recording snowfall of up to 8cm (3in) in places.
South West Trains and the Southern network are running revised services which may stay in force at the weekend.
Southampton Airport said passengers should contact airlines before travelling.
'Bad visibility'
Gritters have been deployed around Southampton General Hospital to help traffic get in and out.
Southampton City Council has drafted in refuse workers to help clear roads with waste collections suspended.
Councillor Asa Thorpe, member for transport, said gritters were moved back on to priority one routes when the heaviest snowfall hit on Friday morning but many roads still ground to a halt.
Earlier, the A35 at Emery Down in Lyndhurst was impassable after four crashes, with lorries unable to climb the hill.
Two lorries jack-knifed in separate incidents on the Isle of Wight, while another lorry caused delays on the A3 when it also jack-knifed.
A car blocked the middle lane of the westbound M3 where it meets the M27 after a crash.
A number of bus companies suspended services with passengers advised to check their websites.
Mother-of-two Sharon Rudge, 42, said she decided to walk the three miles to work in Lowford.
'Work from home'
"I never drive in the snow.
"My husband is a policeman and he's on the late shift tonight so he's at home to play in the snow with the children."
Southampton City Council neighbourhood warden Kay Kendall, 37, said: "I'm meeting my colleague and we're going to see if our residents are okay.
"We'll walk around and check on our vulnerable residents."
BBC reporter Paul Greer, in Winchester, said: "As I was driving up here you forget how bad the visibility is driving in snow."
Residents have been helping drivers stuck in Southampton, which became gridlocked.
Connor Rowe, 17, said: "I saw all the cars and thought I'd do something to help."
Gritting lorries have been out in force and more than 100 volunteer 4x4 drivers trained by Hampshire Fire and Rescue Service have been drafted in to help people most in need.
The snow is expected to ease but ice could cause problems into the weekend.
Hampshire Constabulary has set up an adverse weather office to monitor the situation and manage any problems caused by the snow.
Ch Insp Gary Cooper said: "Our advice at this stage is if you can avoid travelling on the roads, please do.
"Keep journeys to only those that are absolutely necessary.
"Those that have the flexibility in their job to work from home."
The enhanced content on this page requires Javascript and Flash Player 9
Map Key
Land
Cloud
Lakes, Rivers & Sea
Fog
Light
Heavy
Frost
Light
Heavy
Pressure Fronts
Cold
Warm
Occluded
Rain
Light
Heavy
Extreme
Snow
Light
Heavy
Temperature tab only
Temperature (°C)
More details from BBC Weather