Dog thefts investigation: Three men arrested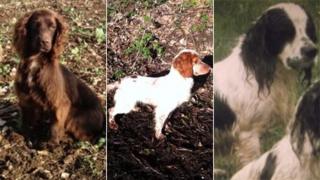 Three men have been arrested in a police investigation into three dog thefts in the South.
A 20-year-old from Chobham, Surrey, a 24-year-old from West Moseley, Surrey, and a 21-year-old from Yateley, Hampshire, were held on 10 January.
Police questioned the men about the theft of three cocker spaniels worth thousands of pounds in Bullington, near Andover and Owlesbury, near Winchester.
The dog were taken in December. They have not been found.
The men were later bailed.
They were arrested following a report of a suspicious vehicle entering a farmyard in the South Warnborough area.
Hampshire Constabulary has warned dog owners to be extra vigilant amid fears an organised gang was specifically targeting working dogs.
Thames Valley Police also dealt with 15 separate incidents across its force during December.