Cowes Enterprise College building delays continue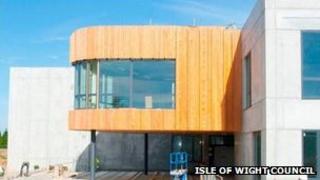 An Isle of Wight school will not move into its new building until at least a year after originally planned.
State-maintained Cowes Enterprise College was set to relocate to a new £32m premises last September.
The school had previously hoped to complete the move in the spring but construction problems have continued.
Isle of Wight Council supports the school's desire to stay at its current Crossfield Avenue site until the end of the academic year.
Construction on the new building began in 2010.
Following recent surveys, independent experts have compiled a report of structural problems which contractor Pihl UK are set address.
Staff suspended
Isle of Wight Council's director of economy and environment Stuart Love insisted the building will be something to be proud of despite ongoing delays.
He said: "Experts have been brought in to look at areas of concern and we've said to contractors we need a programme that addresses all of those.
"We have to stress we can't be completely explicit about exactly when those will be fully resolved.
"It's important to get them right before the school can even consider moving.
"They have made a decision to delay until at least September in the interests of the school and most importantly, its pupils."
Two members of Isle of Wight Council staff remain suspended pending internal investigations into the college building delays.
The unnamed pair were suspended in November.
Cowes Enterprise College, formally known as Cowes High School, has 1,100 pupils.
As well as classrooms and an IT suite, the new building will have community facilities, including sports pitches and an auditorium.