Ian Molyneux inquest: Police concerns over crew drinking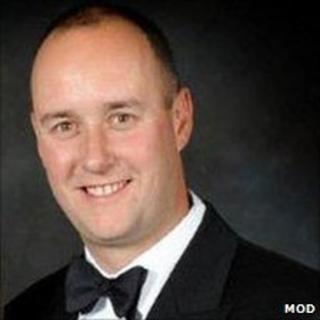 Police investigating a fatal shooting on a nuclear submarine alerted the military authorities over crew members' drinking, an inquest has heard.
Lt Cdr Ian Molyneux, 36, was shot by sailor Ryan Donovan, 23, on board HMS Astute when it was docked in Southampton in April 2011.
Donovan had been on a two-day drinking binge in the city, before the shooting.
The submarine's captain told the inquest there had been no signs of crew members being unfit for duty.
Richard Wilkinson, counsel for Lt Cdr Molyneux's family, told the inquest Det Supt Tony Harris, of Hampshire Constabulary, who investigated the shooting had however, been "highly alarmed" by the alcohol consumption of some crew members.
Binge drinking
Det Supt Harris said crew members had been in pubs and clubs in Southampton getting "drunk out of their minds". He wrote to his chief constable who passed on his concerns to the military.
The inquest previously heard Donovan had drunk 20 pints of cider and lager, cocktails and double vodkas in the 48 hours before he was put on guard duty with a gun.
The Royal Navy has since tightened its rules on alcohol consumption before duty.
Cdr Iain Breckenbridge, captain of HMS Astute, said there were no signs of crew members being unfit for duty. He said anyone who had concerns about Donovan should have reported them.
He said he was "surprised" to hear of the police's fears of binge drinking by the crew.
He also told the inquest Lt Cdr Molyneux, from Wigan, Greater Manchester, was "phenomenally brave" in tackling Donovan who otherwise would have had the opportunity to shoot more people.
Cdr Breckenbridge said he was in another part of the nuclear-powered sub when he heard the shots.
George Medal
"I just knew we had to go in the other direction," he said.
"Unfortunately we did not get everyone out of the way."
When he returned to the control room he saw Donovan being restrained on the floor, Lt Cdr Christopher Hodge, 45, who had been shot in the stomach, being comforted and Lt Cdr Molyneux lying at a right angle with "catastrophic injuries to his head".
Lt Cdr Molyneux was awarded the George Medal posthumously for bravery.
Cdr Breckenbridge said Donovan had not said a word after he was overpowered.
"It was a shocking and harrowing experience to be involved in," he said.
"I do not think anybody could have spotted what he was going to do but whether he had been drinking and was unfit for duty that is a separate matter."
Able Seaman Ryan Donovan was jailed for at least 25 years after pleading guilty to murder and three counts of attempted murder.
The inquest continues.