Hovertravel considers reductions on Southsea and Ryde crossings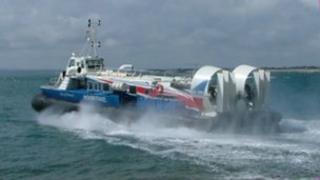 The operator of the cross-Solent hovercraft passenger service is considering cutting peak time services.
Hovertravel is consulting customers on reducing its summer service between Southsea and Ryde from four to three crossings an hour.
The company says having a short turnaround time is hitting punctuality.
It said that early feedback from customers was that they did not want change.
Hovertravel says that 16% of its crossings currently run late and running fewer crossings could allow better connections to buses and trains.
Managing director Neil Chapman said: "With the hovercraft being so frequent we are challenged by the fact it is quite a small turnaround time of five minutes."
Commuter Kay Saunders, who lives on the island, said: "The service has gone downhill over the years and we already find it incredibly difficult during the winter timetable when it goes down to one hover a hour.
"It's quite disturbing they are talking about cutting again [in the summer] - they've got you over a barrel."