John and Billy Connors jailed for forcing men to work unpaid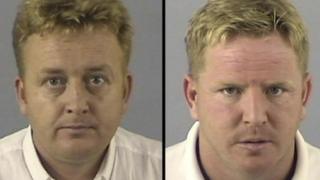 Two travellers have been jailed after admitting forcing vulnerable men to work long hours with no pay.
John Connors and brother-in-law William "Billy" Connors made the men live in tents and regularly beat them.
The behaviour of John Connors, 31, from Leighton Buzzard, Bedfordshire, and William, 38, from Bestwood Road, Nottingham, was called "abhorrent".
The pair were sentenced to 40 and 30 months respectively by a judge at Southampton Crown Court earlier.
Both men pleaded guilty on the eve of a scheduled retrial to requiring their victims to perform forced or compulsory labour between April 2010 and June 2011.
They had previously denied the charges and other more serious counts of holding the men in slavery or servitude and not guilty verdicts were ordered on these counts.
Heads shaved
The court heard victims Victor Romain, 56, and Christopher Groombridge, 32, suffered at the hands of the men for five months.
Both men, who were homeless or had drink problems, were approached by the Connors family and told they could work laying block paving or tarmac for £30 or £40-a-day.
They were also told they would be given food and accommodation.
But instead they received little cash for up to 80 hours' work a week with no health and safety training nor the proper tools.
They would be beaten or threatened with violence, discouraged from speaking to family or the public and had their heads shaved.
Mr Romain said he was punched in the head and hit with a shovel by John Connors after he lost £20 for fuel.
His passport and wallet were also taken.
Mr Groombridge told the court he was forced to fight another man over three rounds.
When police raided an illegal traveller camp they were living in at Hamble in Hampshire in June 2011, the men were found living in tents with no running water.
They had to use the woods to go to the toilet.
Meanwhile, the defendants were living in luxury caravans with John Connors owning a convertible car worth £45,000,
Charles Thomas, prosecuting, said: "The defendants took advantage of these vulnerable men to treat them in ways that they were effectively forced to carry out work at the defendants' behest."