Hampshire fire crews stop 100-litre diesel spillage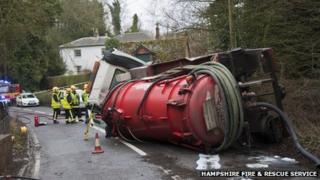 Fire crews battled to stop 100 litres of diesel leaking into drains after a tanker overturned in Hampshire.
The vehicle was carrying 8,000 litres of liquid sewage when it lost control near Leckford Estate in Stockbridge at about midday.
Firefighters from Stockbridge, Andover and Eastleigh attended using containers to collect the leaking diesel and prevent it landing on the road surface.
The driver of the lorry received minor injuries and was treated in hospital.