Waterlooville Co-op store destroyed by freezer fire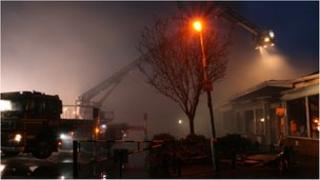 A Co-op store in Hampshire has been destroyed by a fire which is thought to have started in a freezer.
Staff called emergency crews on Saturday afternoon after seeing smoke coming from a unit in the shop in Cowplain, Waterlooville.
Hampshire Fire and Rescue said the single-storey building in Milton Road was "rapidly engulfed by fire".
Crews tackling the blaze inside the building were forced to withdraw before the flames caused the roof to collapse.
Three people were treated at the scene by ambulance crews for the effects of breathing in smoke and one was taken to hospital as a precaution.
The cause of the fire, which started shortly before 15:00 GMT, is believed to have been an electrical fault, firefighters said.
Phil Ponsonby, from Southern Co-operative, said: "We are very proud of the action that our colleagues in the store took to evacuate the building quickly, ensuring that no customers and colleagues were hurt.
"All colleagues undertake fire evacuation training and this paid off on Saturday.
"The store has been extensively damaged and will remain closed until further notice.
"We hope to be able to confirm the cause of the fire once a forensic investigation has been undertaken."
Staff will be deployed at nearby stores until the Cowplain store is reopened.
The fire service said two Tesco Express stores in Waterlooville had been destroyed by fire in recent years - on Lavender Road in September 2011 and on Grassmere Way in July 2010.
Crews remained at the scene on Sunday damping down to prevent the fire from reigniting.