Portsmouth couple 'kept men like modern day slaves'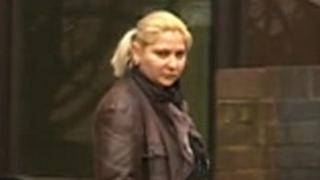 A man trafficked four Polish nationals into Portsmouth then kept them under slave-like conditions for his own financial gain, a court has heard.
Dawid Siwak, 30, allegedly offered the men work in the UK and then controlled their finances and lifestyle.
Portsmouth Crown Court heard that along with his wife, Roza Urbanowicz, Mr Siwak kept the four men in crowded flats and retained most of their wages.
Mr Siwak denies four counts of keeping a person in servitude and trafficking.
Ms Urbanowicz, 34, also denies four counts of keeping a person in servitude.
Prosecutor Barnaby Shaw said the facts of the case resembled "a Charles Dickens novel".
He said: "It concerns trafficking and what could basically be called slavery, although in modern statute it is servitude."
The court heard that between June 2011 and May 2012, Mr Siwak encouraged four men to travel to Portsmouth from Poland.
They made deals with him, paying £100 for travel, £50 a week for rent and £30 for food. Mr Shaw said they came willingly, expecting to find work to earn money.
'Threats of violence'
Jurors heard they arrived by minibus or were driven by Mr Siwak, and stayed in flats in Nelson Road or Laburnum Grove.
In time they would be found work, such as packing salads, and would then be taken to open bank accounts for their wages to be paid into.
Mr Siwak would use their bank cards and PIN to withdraw their wages as soon as they were paid in, the court heard.
"He would take them to and from work and discourage them from any life outside work," Mr Shaw said.
"He controlled their finances. They would occasionally receive a little money from him for tobacco or other expenses, but nothing that reflected the sums they were earning.
"He reinforced this regime with threats of violence or use of violence.
"They were kept in a permanent state of poverty. They felt cheated and exploited."
The court heard one man "escaped" in January 2012 and went to police, who raided several Portsmouth addresses and arrested Mr Siwak and Ms Urbanowicz, of Chichester Road in the city.
The trial continues.