Man arrested over arson attacks in Winchester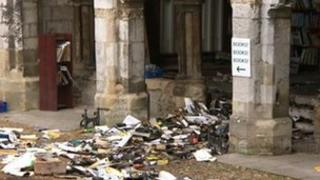 A man has been arrested in connection with a spate of fires in Winchester including one at the the city's historic Deanery.
The blaze, started in a box of antique books, caused the doors of the Deanery in the cathedral grounds to catch fire.
Around 120 people were led to safety from the cathedral's open-air ice rink just after 19:00 GMT on Tuesday.
The Dean of Winchester Cathedral was not at home at the time of the fire. The cathedral was consecrated in 1093.
Elsewhere, a lit commercial bin was pushed through the window of a clothing shop in Parchment Street.
Another fire was started at a restaurant but failed to take hold after the chef managed to extinguish it.
Steve Brine, MP for the city, said: "This is a horrible start to the new year for Winchester.
"Any damage is hugely disappointing and will be costly for the businesses affected while the impact on some very old parts of our Cathedral will, I know, make local people very sad indeed."
Police said a man in his late 40s was arrested close to the scene of the three fires.