Crookham Mummers celebrate 50 years of plays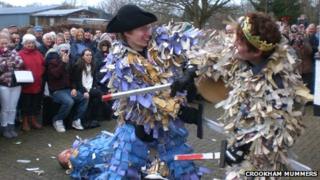 A theatre group has staged its 50th traditional post-Christmas play in a Hampshire village.
Crookham Mummers have been performing in local pubs and venues around the village near Fleet each year since 1963.
The mummers' plays, which have their origins in the Middle Ages, are held to raise money for local charities.
Tom Dommett, whose great-grandfather and father were also mummers, said the group "remained resolutely rowdy".
The Crookham event began in the 1880s and ran until World War II. Public performances were revived in the 1960s.