Brockenhurst and Lymington armed robber image released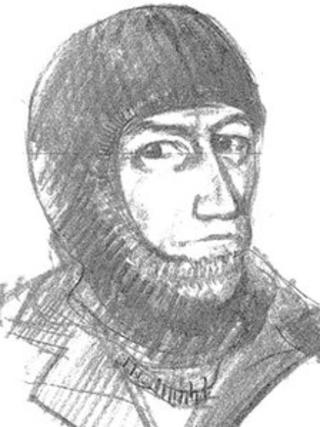 An artist's impression of a man suspected of two armed robberies and a kidnapping in Hampshire has been released by police.
The man is suspected of carrying out an armed robbery at Brockenhurst railway station on 5 December.
He is also believed to have kidnapped a Lymington woman at gunpoint on 14 December.
A reward of up to £5,000 is now being offered by Crimestoppers for information leading to a conviction.
Car abandoned
During the armed robbery in Lymington, a man in swimming goggles threatened a couple at their home before stealing their car and forcing the woman, in her 60s, to go with him.
He drove around the town demanding money before releasing her 15 minutes later and fleeing with £100.
At Brockenhurst station a man was forced into his Porsche 911 Carrera at gunpoint and made to drive to a bank in the town and forced to withdraw a large quantity of money.
The offender then sped off, leaving his victim stranded in a car park. The Porsche was later found abandoned.
A 44-year-old man from Lymington who was arrested by police has now been released without further action.
A 44-year-old man from New Milton and a 48-year-old man from Lymington remain on police bail until February.
The reward is also being offered in connection with an armed robbery at a post office in Highcliffe, Dorset on 18 December.
Police said they were "keeping an open mind" as to whether it was linked to the Lymington and Brockenhurst incidents.