Allan Formhals jailed for eBay fake signature sales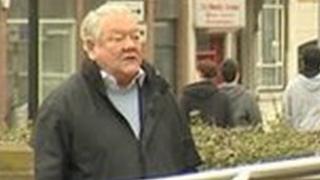 An antiques dealer who sold fake signatures on eBay of famous figures including Winston Churchill and Pablo Picasso has been jailed for 10 months.
Allan Formhals, from Milford-on-Sea, Hampshire, was found guilty of 10 counts of fraud.
Southampton Crown Court heard he made £6,967 defrauding two collectors.
The 66-year-old was cleared of two counts of fraud, with a jury unable to reach a verdict on three further counts.
Formhals found the books at car boot sales and a recycling centre, adding the fake signatures later before selling them on eBay to collectors.
Judge Peter Henry called the fraud "widespread and planned, making him significant profit".
He took into account the defendant's bad health and reduced the sentence.
'Aladdin's Cave'
"It's always sad to see a person of 66 years of age convicted by a jury of a serious fraud, particularly as you have no previous convictions," he said.
"It must be made perfectly clear that those who are tempted to indulge in this type of fraud, particularly over the internet, must understand the consequences."
Police found "an Aladdin's Cave" of forged signatures, including Oliver Cromwell, Elizabeth I and Marie Antoinette when Formhals' home was searched.
He denied 15 charges of fraud from 2009 to 2011 but was found guilty of 10 counts in October.
During the trial, the court heard Formhals claimed in emails the Churchill books came from the home of World War II fighter ace Neville Duke, who lived near him in Milford-on-Sea.
He had died in 2007.
The three charges the jury failed to reach a decision on will lie on file.