HMS Diamond back in Portsmouth for Christmas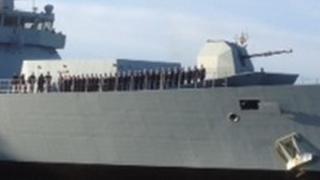 Sailors on board HMS Diamond were reunited with their loved ones as the ship came home in time for Christmas.
The Type 45 destroyer docked at Portsmouth Naval Base after its maiden deployment to the Middle East.
Prior to sailing in June to carry out security and counter-piracy patrols, the ship launched the Diamond Jubilee celebrations at the naval base.
The warship has travelled about 31,000 miles on patrols in the Indian Ocean, Gulf of Oman and Arabian Gulf.