Third man arrested over Lymington gun kidnapping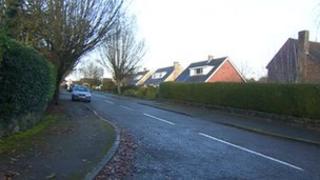 A third man has been arrested in connection with a robbery in the New Forest in which a woman was kidnapped at gunpoint and taken off in her car.
A man in swimming goggles threatened a couple at their Lymington home on 14 December before stealing their car.
He forced the woman, in her 60s, at gunpoint to go with him as he drove around the town demanding money.
The 44-year-old is also being questioned over an armed kidnapping at Brockenhurst railway station.
Hampshire police said he was being held on on suspicion of robbery in connection with a "recent series of armed robberies in the Lymington and Brockenhurst areas".
Det Ch Insp Stuart Murray said: "This is just one line of inquiry that is currently being pursued and we thank the general public for their support so far, but continue to ask anybody with any information to please contact us."
Revealed clues
Another two men, aged 44 and 48, have previously been arrested and bailed over the Lymington robbery.
Officers have appealed to the offender's family to hand him in or convince him to hand himself in to police.
They said he revealed to his victims that he lost his business five years ago and had a wife and child.
Officers believe the Lymington armed kidnapping is linked to that in Brockenhurst on 5 December.
In the Lymington incident the woman was not injured but her husband, who is in his 70s, received a minor head injury during an altercation with the suspect inside the house in Rookes Lane.
The woman was driven erratically around the town in a silver/grey Peugeot 207 convertible before she was returned after about 15 minutes.
The robber stole about £100 and the car was later found abandoned at the end of Newenham Road.
In the robbery at Brockenhurst railway station, a man was forced into his Porsche 911 Carrera at gunpoint and made to drive to the town's HSBC bank where he was made to withdraw a large quantity of money.
The offender then sped off, leaving his victim stranded in a car park.
The Porsche was later found abandoned.
The 48-year-old Lymington man previously questioned, was held on suspicion of robbery and aggravated burglary and the 44-year-old, from New Milton, was held on suspicion of robbery.